Roaring Fork River Brown Trout
As the weather warms up and spring arrives, the fishing continues to be excellent. The shop has been very busy the past couple of weeks, and now that off-season is upon us (lifts close tomorrow) I am getting a chance to do some trips that I've been wanting to do for a while. Sara Vandermeer has worked at the St. Regis for a couple of years. She has gone shooting with my father, and has always hinted that she would be interested to get out and try some fly fishing. Sara is heading back to New Zealand next week, so we decided to get her out on the river and show her what it is all about before she goes home. Sara's friends Steve and Michael were in town visiting, so I took them along with Sara and her room-mate Jacquie. The following pic is of the entire crew looking extremely attractive in their fishing gear.
The Crew
Jacquie, Jarrod and Sara
Jacquie with her Rainbow
Jacquie was the first one to hook up. She played and landed a nice Bow very proficiently. Although there has been some action on the surface recently, everyone in this group was pretty new to fishing, so we were working on roll casts, and fishing with little nymphs. The midge emergers seemed to be getting the most success, so after Jacquie got the above pic taken, and her Bow released, I changed Michael's fly and went up stream to see how Sara and Steve were doing.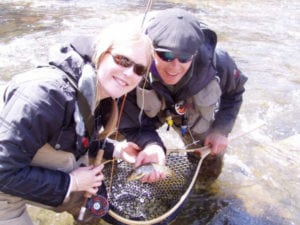 Sara and her Brownie
Sara picked a little brown out of the riffles with a midge emerger, and I had to run downstream to help Michael net a fish pretty soon after that. The time had flown by, and we wanted to head a little further downvalley and try another spot, so we made our way back to the car. This was a great group, and we had lots of laughs in transit. Everyone was keen to get back in the river, so we didn't travel for too long.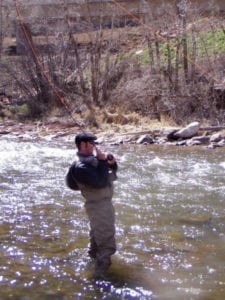 The Author
The second part of the day was a little slower, as we were past the middle of the day. Although they hooked several fish, nobody was landing any, and I think that minds were turning to a beer at the Woody Creek Tavern. Finally, Michael handed me the rod and said that I should have a go. When guiding clients, it is our policy not to fish. There is always lots to do, and guests have a better experience when the focus is solidly on them. However, this was a group of friends and co-workers, so I abandoned my 'guide' demeanor and started fishing. I missed a couple of strikes, and then got a lucky hookup at the end of a drift. Sara got a couple of pics of me playing the fish (nice pose) and then of the fish itself. It was a nice-sized Brown. Once we had it in the net, everyone marveled at how yellow-gold he was. I think it was an older fish, but he was in pretty good shape, and we got him back in the water quickly.